May 18, 2013
Crack smoking Toronto mayor Rob Ford caught on tape! -TAIWANESE CARTOON VERSION
(Source: youtube.com)
May 17, 2013
May 16, 2013
Toronto Mayor Rob Ford bolts from meeting to put fridge magnets on cars | Toronto Star
"Minutes after Mayor Rob Ford arrived at a contentious community council meeting in Etobicoke on Tuesday evening, he bolted out of his seat, sprinted up an aisle, and left the building — to wander around the parking lot and slap "Rob Ford Mayor" fridge magnets on the doors of cars. When a reporter told Ford that some people might find his behaviour strange, he retorted that some people find the reporter strange. Magnets in hand, he made no further comment. Ford was accompanied by a City Hall security guard. When reporters approached him, he conducted an impromptu scrum on the controversial Humbertown condo proposal that residents were simultaneously decrying inside the Church on the Queensway. The mayor slowed down only twice — once to calmly address the reporters who followed him, once to shout urgently to aide David Price for more magnets, his arms outstretched."
May 16, 2013
"A: Wright paid Duffy's tab out of friendship, according to the official. Duffy, who has suffered heart troubles, was unable to repay the cash immediately and was concerned about leaving wife Heather saddled with debt so Wright stepped in, the source said."
—
SOUNDS LIKE A GAMBLING PROBLEM!
Questions and answers on the $90,000 payment to Mike Duffy | Toronto Star
May 16, 2013
"It creates a special class of people whose policy (or) political problems are fixable by money in a way that isn't accessible by most people and the system shouldn't work that way."
—
Former Harper aide commenting on a current Harper aide.
Questions and answers on the $90,000 payment to Mike Duffy | Toronto Star
May 16, 2013
May 16, 2013
May 15, 2013
"5. Allow for a great deal of mystery. We live in a western world and we love systematic theology. We want all the I's dotted and the T's crossed. But often when we have every answers to all our children's questions, we fail to instill in them a respect for the ineffibility of God. He is beyond figuring out. So much of his nature and his ways are a mystery to us. From "Why did God create the dinosaurs?" to "Why does God allow Satan to have so much power?" these questions need to be left unanswered. Allowing for and rejoicing in the mystery of God will help your children, giving them the freedom to worship in mystery and truth."
—
Twelve Ways to Prepare Your Children for Times of Doubt | Parchment and Pen
Word 'em up.
May 15, 2013
May 15, 2013
"The mayors claim they were never consulted throughout the process, which led them dumbfounded by Friday's announcement."
—
Quebec to give land back to Mohawks
"A group of South Shore mayors are reeling after the Parti Québécois government announced its decision Friday to give back 300 hectares of land to the Kahnawake Mohawks.
The farmland was appropriated in 2006 during construction of the Highway 30 project and will be ceded back to the First Nation in the near future. It lies along the border of Kahnawake, Châteauguay, St-Constant, Ste-Isidore and Ste-Catherine."
Haha, totally sucks when land titles moved around without your knowledge. 
May 15, 2013
The Hankyoreh: Elderly prostitution at Jongmyo Park (Seoul)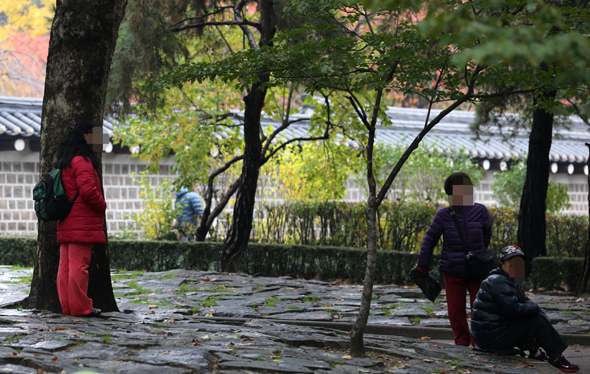 May 15, 2013
"
Price is a public matter — a negotiation between supply and demand. A thing's price is set in competition. So the price of a car is determined by how much some people want it, how much they are willing to pay, and how ready the manufacturer is to sell. It's a public activity: lots of people are involved in the process, but your voice is almost never important in setting the price.
Value, on the other hand, is a personal, ethical and aesthetic judgment — assigned finally by individuals, and founded on their perceptiveness, wisdom and character.
"
— The difference between price and value – and other essential tools of cultivating a healthy relationship with money. (via explore-blog)
(Source: , via humulus)
May 14, 2013
Maple Leafs vs. Bruins Game 7 2013 Playoffs
(Source: youtube.com)
May 12, 2013
"I'm not gay, my body language is a real man's body language. I'm not gay and I won't act gay. It was not my intention to offend."
—
Kaiserslautern's Mohamadou Idrissou, fined €3,000 for refusing to tone down his aggressive body language.
May 11, 2013
"The level of the most important heat-trapping gas in the atmosphere, carbon dioxide, has passed a long-feared milestone, scientists reported Friday, reaching a concentration not seen on the earth for millions of years.
Scientific instruments showed that the gas had reached an average daily level above 400 parts per million — just an odometer moment in one sense, but also a sobering reminder that decades of efforts to bring human-produced emissions under control are faltering.
The best available evidence suggests the amount of the gas in the air has not been this high for at least three million years, before humans evolved, and scientists believe the rise portends large changes in the climate and the level of the sea.
"It symbolizes that so far we have failed miserably in tackling this problem," said Pieter P. Tans, who runs the monitoring program at the National Oceanic and Atmospheric Administration that reported the new reading.
Ralph Keeling, who runs another monitoring program at the Scripps Institution of Oceanography in San Diego, said a continuing rise could be catastrophic. "It means we are quickly losing the possibility of keeping the climate below what people thought were possibly tolerable thresholds," he said."